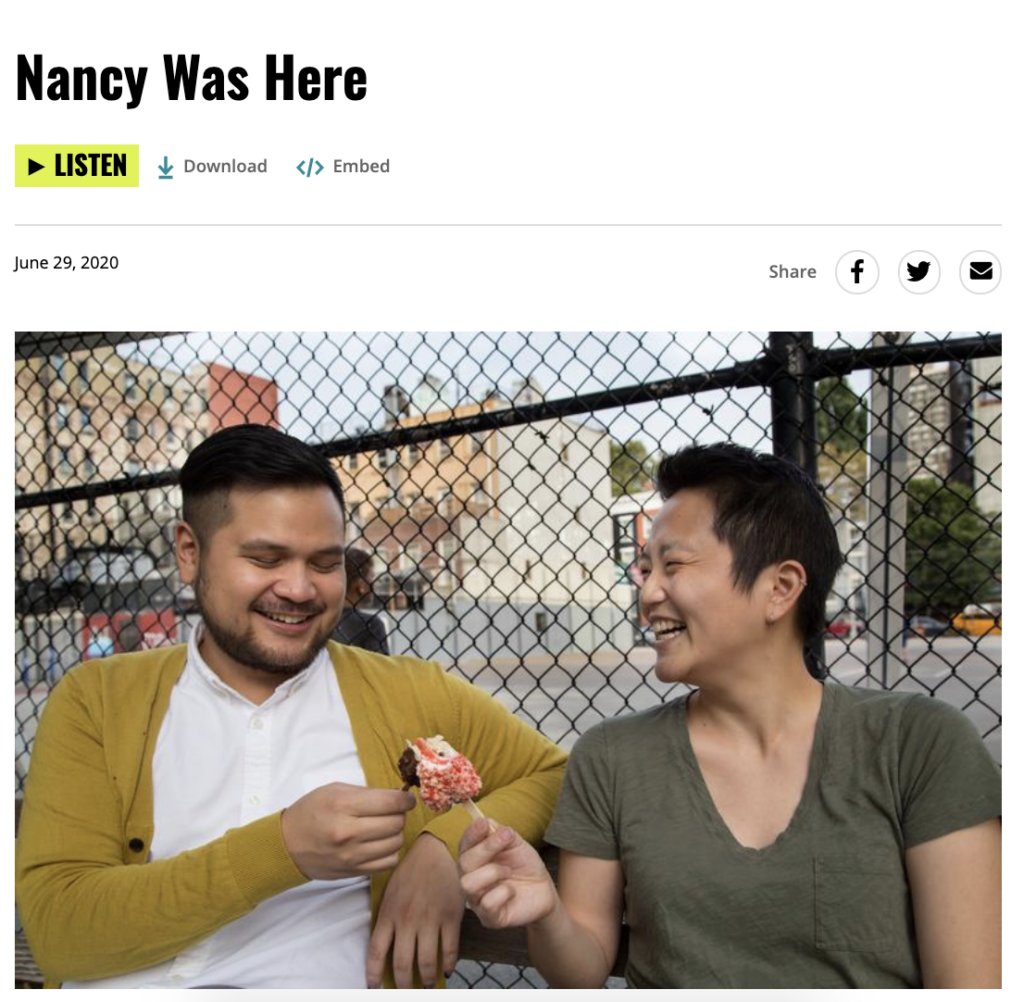 I can't believe Nancy Podcast is coming to an end. It's been an incredibly important podcast for me as I came to terms with my sexuality and started the process of coming out to my family. Haven't fully finished that journey — I'm learning that it's a continual, never-ending process — but maybe this episode will help.
Hosts Tobin Low and Kathy Tu's storytelling is such a treasure. From the episode about Tobin trying on heels and why he felt the need to lower his voice, to the very first episode, with Kathy coming out to her mom, again, and again. Her raw vulnerability and bravery helped me come out to my mom.
I remember when Nancy won the WNYC podcast accelerator. I was so excited to listen and learn more about the LGBTQ+ community! The Nancy team unearthed powerful, vital stories and shared them with the world. One of the best parts about Nancy was that there were always more stories, always something new, something I connected with, something that made me laugh or cry. I've learned so much about all aspects of the LGBTQ+ community by listening to this show.
While quarantining and remaining socially distant during the COVID-19 pandemic, listening to Nancy has been such a welcome respite. Their check-ins with each other were grounding, the watch party for The Half of It was so fun, hearing from Carmen Maria Machado (one of my favorite authors) was amazing, and the Facebook group has remained a place of connection and support.
For their final episode, Kathy and Tobin revisit some of their stories, check-in with their parents, thank current and former producers, highlight other LGBTQIA podcasts to listen to, and feature reflections of what Nancy meant to their audience. I'm honored that I was one of those audience members. You can hear my reflection starting at 17:08, but check out the full episode as well as their backlog.
I want to extend a heartfelt thank you to everyone who worked to put this show together! I'll miss Nancy in this form so much. But I'm wishing Kathy and Tobin all the best in their new adventure with Radiolab, and hope the other Nancy team members get job offers soon. Good luck, members of my extended gaggle, and thank you!