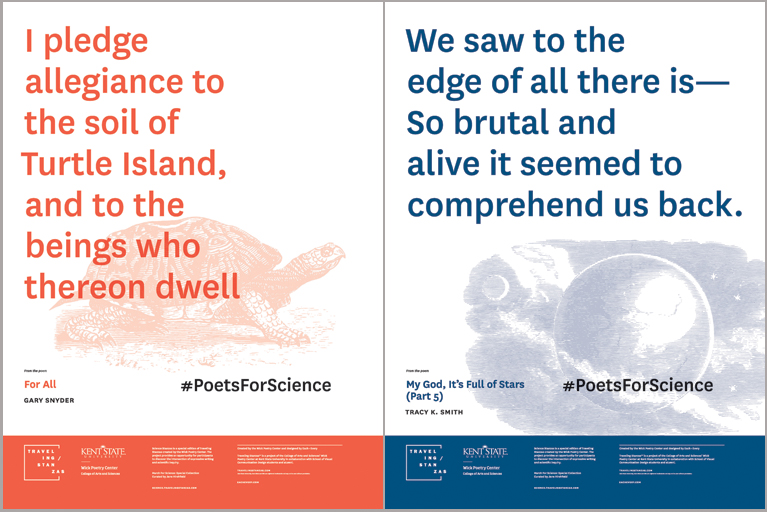 On Saturday, I'm humbled to be a part of the March for Science in Washington, D.C. Most likely I won't be marching, due to chronic pain, but I will be participating in another, meaningful way. Through serendipitous chance, I was invited to be a part of the poetry teach-ins that are happening during the day. The incredible poet Jane Hirshfield is the mastermind behind the idea — and I am so grateful to be able to work with her and bring her dream to life. Make sure to read Jane's poem "On the Fifth Day," which she will be reading at the rally during the March.
Several local poets and staff from Kent State University's Wick Poetry Center will be leading poetry workshops focusing on insects, personifying storms, climate change, data, and more. The workshops will be from 9 a.m.-12 p.m. at the Mall in the Poets for Science tent. Learn more about the pop-up workshops.
My workshop is Writing the Storm. I'm bringing several poems exploring weather, planets, natural disasters, and how they affect our lives. We'll use phrases from these poems and from Patricia Smith's poetry personifying Hurricane Katrina as a jumping off point. All are welcome, including parents and children, and no experience is required.
This opportunity is so dear to my heart because most of my poetry, and some of my prose, focuses on science in some way. I'm obsessed with space. I write about my body and medical issues. I explore the potential future in science/speculative fiction. Science and creative writing go hand in hand. Writers draw from the natural world and the rich images in science.
Jane's work in forming Poets for Science and our teach-ins were featured in an article on Poets&Writers. Read it to learn more about the seven-foot posters of poetry that will be present at the March, as well as how this came to be. The workshops and poems are also traveling the globe and may be translated and held in satellite marches throughout the world, including the March for Science in Marseilles, France!
Join the conversation throughout the day and share your science-related poems with the hashtag #poetsforscience! Excited to see you there!