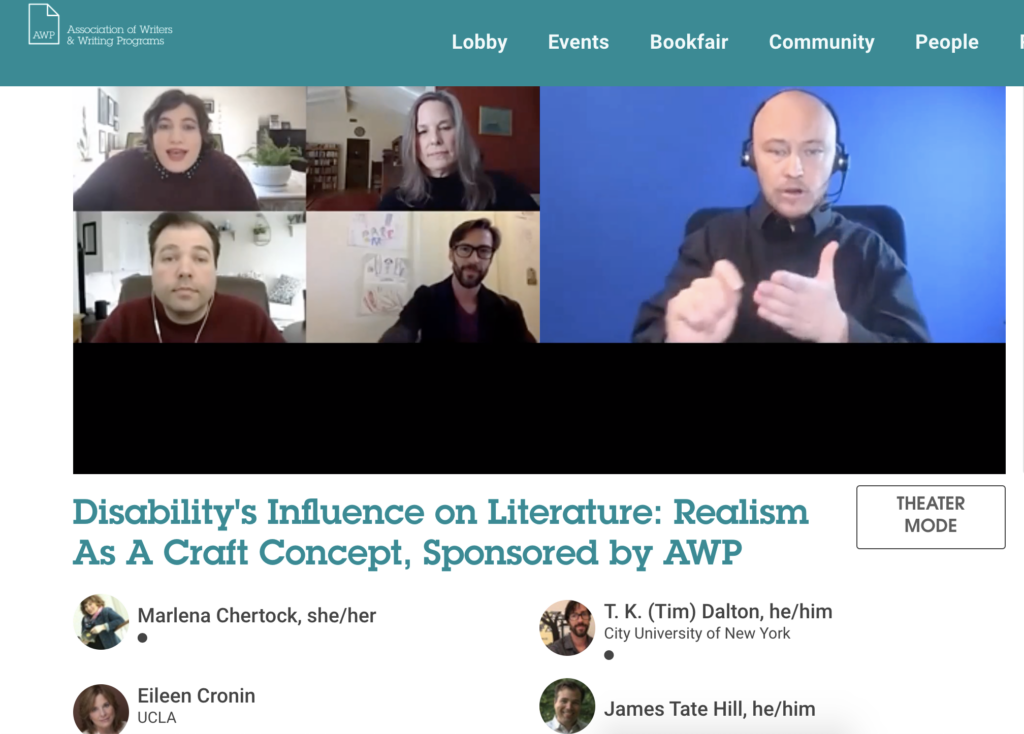 On Wednesday, I moderated the panel "Disability's Influence on Literature: Realism As A Craft Concept" at AWP 2021. We had an incredible turnout — 194 people joined us! This important conversation was sponsored by AWP and featured Eileen Cronin, James Tate Hill, and T.K. Dalton (you can buy our books on Bookshop). If you missed our conversation, you can still access it via the AWP 2021 conference app*.
There was such a great conversation going on in the comments section. It was lively and full of people sharing their experiences with disability, pain, otherness, stigma, and discrimination. Here's a few comments from the chat that made my heart sing:
"Thank you Marlena, Eileen, James, and T.K. for shining your light in this space that needs you and so many more voices to be heard!"
"Amazing discussion, this alone was worth the price of admission!"
"My first panel this year, and wow, you set a high bar."
It's been quite a journey. We postponed our panel last March as the coronavirus was beginning to spread and shut everything down in the U.S. Since the pandemic is still raging (though there are glimmers of hope with more vaccines being approved and distributed), #AWP21 became a virtual experience.
I know so much of an in person connection is lost and can't be replicated virtually. But these virtual conversations are still powerful. This is also allowing the conference to be more accessible to disabled writers and readers — something we discussed on our panel. It's been much easier than rushing around a convention center, managing chronic pain, and always feeling like I've missed out on something because of overlapping schedules.
I want to thank AWP for sponsoring this panel, for inviting me to moderate (and paying me for this work), and for featuring such esteemed disabled writers! Thank you to the disabled writers and activists, and the AWP staff, who've been pushing accessibility forward. Last but certainly not least, thank you to everyone who attended this important discussion! It truly means the world.
*Note: AWP21 sessions are available to view through April 3, 2021. However, I believe you need to be an AWP member and have registered for the 2021 conference in order to view them.