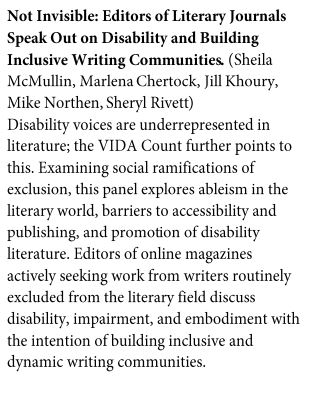 The Association of Writers & Writing Programs (AWP) hosts a huge writing conference in a different location every year. AWP 2017 is coming to Washington, D.C. next year. So I knew I'd be attending for the first time since it's my city. But I didn't know that I'd also be a part of the lineup of amazing events.
I'm thrilled and humbled to have my panel accepted for AWP 2017. The selection process is incredibly selective — and I don't take the acceptance of this panel lightly. My panel is titled "Not Invisible: Editors of Literary Journals Speak Out on Disability and Building Inclusive Writing Communities."
I think we're experiencing a new passion and increased support for the ADA movement and disability rights. That's one of the reasons I'm so excited to get to discuss this and more at AWP in February 8-11, 2017. I'll keep you posted about what day and time this panel will be held.
Here's the full list of accepted events.
Our panel will focus on how disabled writers are often viewed as invisible. Chronic pain can be unseen from the outside. Disabled writers have typically had fewer publishing opportunities than their able-bodied peers. But we're not invisible — we're taking up space, writing our experiences, and submitting our work. Literary journals are featuring calls for disabled, neurodivergent, and underrepresented communities. Recently, the Deaf Poets Society was founded to feature disabled writers. Many editors of literary journals are seeking work from diverse and disabled writers. We want to showcase them and their stories. We want to see more of ourselves.
The fabulous Sheila McMullin will moderate the panel. The panelists include: Jill Khoury, Mike Northen, Sheryl Rivett, and me. Sheila is the managing editor at VIDA–Women in Literary Arts; Jill is the editor of Rogue Agent; Mike is the editor-in-chief of Wordgathering; and Sheryl is the editor at ROAR Magazine.
I hope to see you at my panel and many others! Early-bird registration is open now.