Marlena Chertock is a digital storyteller and poet. Her poetry collection "On that one-way trip to Mars" is available from Bottlecap Press.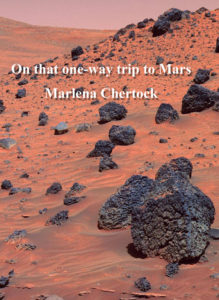 Marlena is the Membership Marketing Specialist at the Society for Science & the Public and poetry editor at District Lit. She's obsessed with design and interactive graphics, features, social media, science, arts and poetry. When not writing, she's reading sci-fi comics and rewatching Kiki's Delivery Service.
Her articles have appeared in The Washington Post, Marketplace, Electrical Contractor Magazine, NBC News, News21, WTOP and The Writers' Bloc. Her poems and short stories have appeared or are forthcoming in The Deaf Poets Society, Dear Robot, The Fem, The Little Patuxent Review, Moonsick Magazine and Paper Darts.