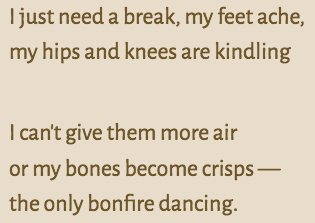 I have a few new poems in the Tiny Tim Literary Review, a journal dedicated to normalizing chronically ill/disability narratives and humanizing medical professionals. This is such a necessary journal, and I'm so glad to be seeing more like it in the past few years.
My poem "Rikkud" is about Israeli folk dancing with pain at summer camp. That's where the above excerpt comes from. Rikkud was a magical evening where all of the campers and counselors at my summer camp gathered on the dimly lit, cracked basketball court, running and stepping in movements our ancestors might have made. It was a place I felt more Jewish than Hebrew school, than synagogue. Something about the actions connecting me to others, to the past.
I wrote tinnitus in a very different form than I normally write. I have tinnitus, and wanted to give it a more distancing/prescription sort of tone, while still having the poem be accessible to those who don't constantly hear ringing in their ears.
A few of the other poems were previously published in The Deaf Poets Society and Noble/Gas Quarterly.