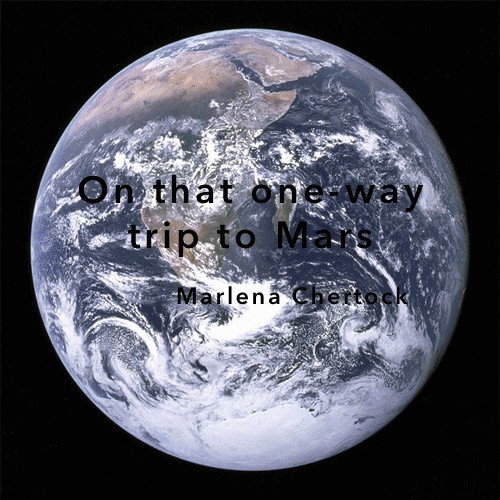 My first book of poetry, "On that one-way trip to Mars," is being published by Bottlecap Press! The collection will be launched on May 6, but you can pre-order starting April 22. You can purchase a copy on Bottlecap's online store.
These poems travel the solar system, describe my skeletal dysplasia, what it would be like to float in zero gravity and give my bones a break, and how much I want the human race to explore the stars and not end up dead on this planet.
I've been working on the collection for over a year. It's my own version of the Voyager's Grand Tour.
With each passing year, it's becoming more of a possibility that NASA or other space agencies will send people to Mars. Some have said it would have to be a one-way trip — to conserve fuel and weight on the rockets. If they had to design a rocket that could launch off Mars and return to Earth, it might be harder. I float in all these obscurities, confusions, fears, and dreams in this collection.
I first started writing when my third grade teacher assigned a fable story. I wrote how the dog got its bark. I was hooked ever since, filling countless journals with ideas, typing stories and saving them on floppy disks, scribbling poems on the Metro. Since university, I've managed to publish 33 poems and seven short stories. If you'd asked 8-year-old Marlena if she would be a published writer a few years later, she'd probably get a huge grin on her face and give you a hug.
So, blast into orbit and explore the solar system with me. Discover the genetic material that makes me up, that dictates who I am, how I look, how much my bones ache. Experience space travel, sexual encounters with astronomers, and the increasing warmth of the sun.