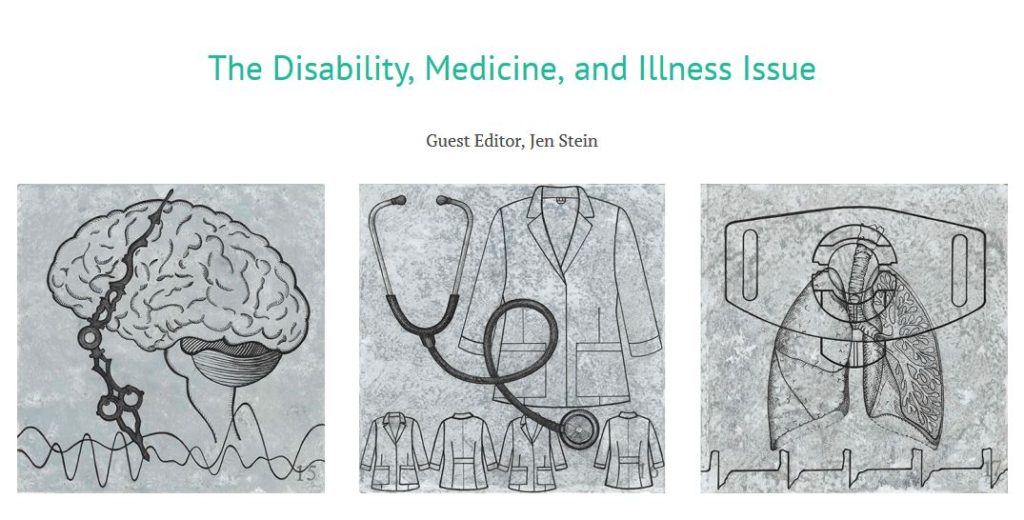 District Lit, the journal I'm the Poetry Editor for, recently published our Disability Issue. These writers and artists share their raw truths about living with disabilities, chronic pain, invisible illness, and medical treatments. They share intimate medical histories, fears, hopes, pain, and scars.
These are important voices, and I'm so excited and honored to share them. I've been wanting to highlight the voices of people with disabilities and chronic illness for a while, and District Lit offered a great home for these important stories and experiences.
These writers and artists share their raw truths. These are vital voices at a time when the Affordable Care Act, healthcare, Medicaid/Medicare, and disability rights are threatened.
These contributors show the disabled and chronically ill body unflinchingly. They show their bodies are valid bodies.
You can also read my and Guest Editor Jen Stein Hauptmann's Editors' Note for more background on the issue.
The issue includes artwork by Christine Stoddard and Paul Flippen; nonfiction by: Emma Bolden, Shari Eberts, Kaleb Estes, Jenn A. Garvin, Heather Taylor Johnson, and Amy Wang Manning; and poetry by: D. Allen, Judith Arcana, Roxanna Bennett, J V Birch, Kristene Brown, Aubrie Cox Warner, Katherine Edgren, Robbie Gamble, Jane Ellen Glasser, Joey Gould, Carrie Purcell Kahler, Jen Karetnick, Christoph Keller, Adrian Kresnak, Travis Chi Wing Lau, Sarah Lilius, Jennifer Met, Daniel Edward Moore, David Olsen, Jeff Pearson, Maria Ramos-Chertok, Andrea Rogers, Ruby Stephens, Denise Thompson-Slaughter, and Jessica Tower.
Poet Kaveh Akbar even tweeted that everyone should take time with this important issue. Thanks for your support, Kaveh!
The whole "Disability, Medicine, and Illness Issue" of District Lit is really worth your time: https://t.co/W4gZfmpMBc pic.twitter.com/moLx8WdEUC

— Kaveh Akbar (@KavehAkbar) July 12, 2017
Please take some time with our Disability Issue.