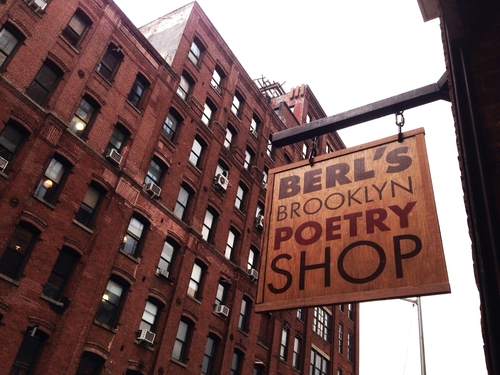 Song title lyrics always make good headlines, right? Well, on November 5 I'll be asking Brooklyn and New Yorkers to take me in at a poetry reading at Berl's Poetry Shop!
The reading starts at 3 p.m. and features several Bottlecap Press authors, including yours truly.
The other readers include: Zachary Cosby, a bookseller in Portland, Oregon with work in the Los Angeles Review of Books, tNY, and The Portland Review; William Keller, a poet and musician who works as a life drawing model at Rhode Island School of Design; Ian Macks has a chapbook, A Loss and Gain of Comfort, available from Bottlecap Press; Elijah Pearson, co-founder/editor of Spy Kids Review and 2 Fast 2 House; Patrick Trotti, founder/editor of (Short) Fiction Collective, founder/editor of Peanut Gallery Press, co-founder/co-editor of Thousand Shades of Gray, editorial assistant for Tiny Hardcore Press; Stephanie Valente, founder and chief editor at Alt Bride, associate editor at Yes, Poetry, and social media manager and columnist at Luna Luna Magazine; and Alexandra Wuest, editor at HOLOGRAM zine. Amanda Dissinger is the host and her chapbook This is How I Will Tell You I Love You is available from Bottlecap Press.
Hope to see you there!